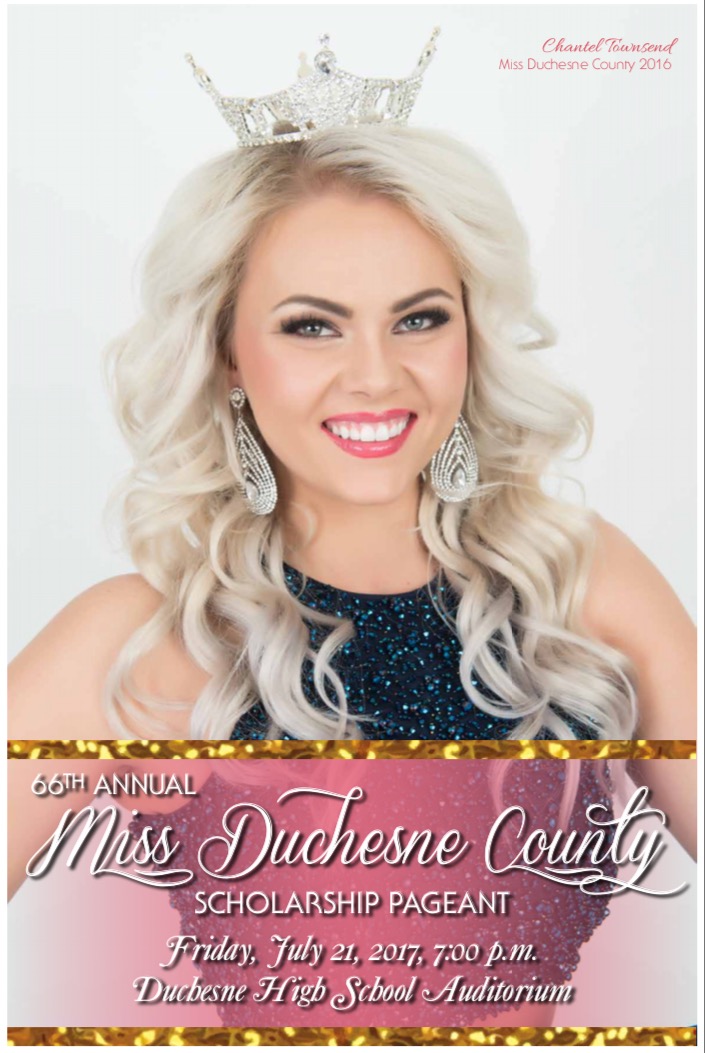 Friday, July 21
66th Annual Miss Duchesne Scholarship Pageant
Time: 7:00 PM
Location: Duchesne County High School Auditorium
Admission Fee:
$8 per person
Contestant Schedule:
Wednesday, June 21 at 6:00 PM at the Crossroads Center
Wardrobe Workshop:
Come learn helpful tips and tricks to have a killer wardrobe. Learn what colors and fits are perfect for you.  Bring anything you would like opinions on. Glitz Gowns 2U will be present with a great selection of gowns, interview outfits, talent costumes, etc.… for rent or purchase.
Wednesday, June 28 at 7:00 PM. Location TBA:
Photo Shoot:

Moments by Misty will provide head shots for the judges and formal photos for display.  If you would like copies of these photos you will need to purchase them. Misty gives our girls an incredible deal on professional photos. A price sheet and order form are included in this packet.
Please have interview outfits and gowns as well as hair and makeup done.
Wednesday, July 5 at 4:00 PM at the Crossroads Center
Walking Clinic and Interview Workshop:
We will be teaching walking patterns and the best way to position and pose your body. Please bring your pageant shoes. Come completely ready to participate in mock interviews.
Tuesday, July 18 at 5:00 PM at the Duchesne High School
Set Places for Opening Number:
The Opening Number must be learned in advance from the videos sent after registration fee is paid. Places on stage will be set according to how well you know the routines and not by your contestant number.  We will not have time to spend teaching this routine, but are there to help clean it.
Wednesday, July 19 at 6:00 PM at the Duchesne High School
Tech Rehearsal:

We will go through the show twice to work out any tech kinks. It is up to you if you want to do wardrobe changes but, this is a great time to show the committee your entire wardrobe so we can critique.  Remember that everything looks different under the lights.
Thursday, July 20 at 5:00 PM at the Duchesne High School
Full Dress Rehearsal:

Please come completely prepared.
Friday, July 21 at 6:00 PM at the Duchesne High School
Pageant Day:

12:00: Mingle with Moms- Bring your mom and come enjoy light luncheon.
1:00: Interviews- Interviews will follow luncheon.
6:30: Doors open to the public- Be ready! This allows you to have time to clean up small details before the show starts.
7:00: Pageant Starts
Application Deadlines
Paperwork and applications must be submitted no later than July 5, 2017. Email completed applications to  missduchesnecounty.ut@gmail.com.
Applications may also be submitted in person at the Duchesne High School on June 28 at the first pageant meeting.
Stevey Winn
Pageant Director
(435)770-4166
Jessyca Burgin
Pageant Committee
(435)671-1599
Taren Schilowsky
Pageant Committee
(435)724-5451
Cassie Winn
Pageant Committee
(435)724-3226