2022 Baby Show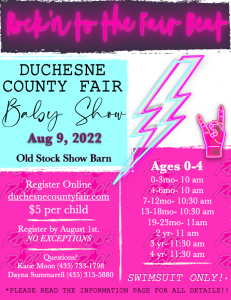 August 9, 2022

10:00 am

TBA

$5
Swimsuits Only
If you have question contact:
Katie Moon, 435-733-1798
Dayna Summarell, 435-315-5880
We are so excited for the baby show this year! This page will go over how the morning will go start to finish.
WHO CAN ENTER: You must have a Duchesne County address listed on your registration form to be able to enter. Your child must be 4 or under at the time of registration.
SCHEDULE: On the flyer you will see the times each age group will begin to be judged. We ask that you show up 20 minutes early to your time posted to give you time to check in and receive your name tag/ number.
Here is an example of how things will go:
9:40 am– 0-3 month & 4-6 month will check in and receive name tag/number
10 am– 0-3 month and 4-6 month girls will be called to table 1 and table 2 in order. 0-3 month and 4-6 month boys will be called to table 3 and table 4 in order.  Once all kids in that age group have been judged, judge sheets will be taken to a separate helper to tally points. WINNERS WILL BE ANNOUNCED DIRECTLY AFTER EACH AGE GROUP IS JUDGED AND TALLIED SO STICK AROUND!                                                                                                                   (All age groups will follow same sequence as above at their posted times)
JUDGING: All kids will be judged by the Duchesne County Queens and attendants. They will have TWO MINUTES to judge based on the following:
APPEARANCE- This is the biggest part of scoring!! Swimming Suit ONLY! Our theme this year is "Rock'n to the Fair Beat" Dress up their swimming suit outfit to follow along with the theme. Get creative!!
PERSONALITY-  Judges will have a variety of objects to interact with the kids so they can show their personality. (0-6 month babies will be judged mostly on appearance so be extra creative!)
*NOTE- If you have twins, they will be judged together! If they place, each one will receive the same place award.
AWARDS: Crowns will be given to the top 3 highest scoring girls in each age group. Medals will be given to the top 3 highest scoring boys in each age group. If your name is called, you will receive your award and we will take a picture of the 3 winners together.
PARADE: If your child is named one of the top 3 winners of their age group, you will be invited to ride on the baby show float in the parade on Saturday.
You must be registered to participate.
Register by TBA No exceptions! Swimsuit only.
Register Now