Horse Show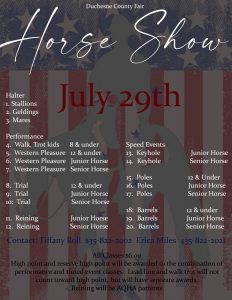 For more information Contact
Tiffany Roll 435-822-2002
Erica Miles 435-822-2021

Saturday, July 29

10:00 am

Duchesne Events Center Indoor Arena

FREE
Details
Register
Waiver
Rules
$6.00 Per event
Halter classes for Stallions, Geldings, and Mares judged on horses conformation.
In Performance classes
Walk trot ages 8 & under,
Western Pleasure & Trail classes will be youth age 12 & under, Junior horse and Senior horses.
Reigning classes are just Junior and Senior horses youth may compete in these classes but will be placed into class according to horses age!
Times events are barrels, poles & flag race.
High point and reserve high point will be awarded to the combination of performance and timed event classes!
Junior Horse is 5& under
Senior Horse is 6 & Older
Youth is 12 & Under