Freestyle Moto Insanity
Tickets Booth Open at 5:00 pm.  Gates Open at 6:00 pm
Moto Insanity & Quad Racing are back!!!  Come join us for our a night filled with  high energy and excitement!
We will have Quad Wars, Freestyle Moto Backflip and UTV/ Moto & Tough Truck Races.  Locals welcome to race. Register at the arena at 5:30-6:30 pm
Cash Payouts to winners!!!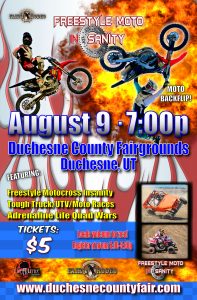 Monday, August 8

7:00 PM

Outdoor Arena

General Admission: $5 *Children under 4 are free.