2021-2022 Kaylee Bristol Duchesne County Queen

Saturday, MAY 22

10:00 am

Event Center

Details
Register
Waiver
Rules
2021 Duchesne County Fair Rodeo Queen Contest Application
Queen Division: Age 15-24 as of the day of the contest
Princess Division: Age 8-14 as of the day of the contest
SATURDAY MAY 22, 2021
10:00 am
Duchesne County Centennial Event Center
Email or Mail application to
Michelle Shiner
1972 S 8000 W
Roosevelt, UT 84066
Questions Call:
Michelle Shiner (435)823-3511
Katelyn Huffman (435)823-2264
Email: mommashiner1@gmail.com
Click the button below for the application and information regarding the Duchesne County Rodeo Queen contest.
County Rodeo Princess contest application & information is HERE.
Register Now
Duchesne County Waiver, Indemnity, and Release of Liability Agreement
Get Waiver
FULL DOWNLOAD AND PRINTABLE VERSION UNDER REGISTRATION TAB WITH APPLICATION.   
2021 Rules, Guidelines & Patterns
Duchesne County Fair Rodeo Queen Contest
Saturday, May 22
10am
Duchesne County Centennial Event Center
Queen Division:  Age 15-24
Princess division:8-14 
 JUDGING GUIDELINES- EACH CATEGORY WILL BE AWARED.
 MODELING: 1-25 points
Poise and smile (self-projection)
Choreography of pattern (difficulty of maneuver)
Eye contact with judges and audience
Balance and coordination (no wobbles on turns)
Use of stage area
 SPEECH: 1-50 points
Two – Two-minute speech: buzzer or bell should sound at the end of 2min. Contestant is allowed to finish sentence ONLY!
If exceeds judges may deduct 5pts.
Credibility, presentation, and proper movement
Grammar and content
Enunciation and voice projection (manner of speaking clear)
Overall expression (smile, eye contact, remember words)
Topic:   HOMETOWN HEROS!
 APPEARANCE: 1-25 points
Overall appearance. (Clothing clean, boots clean, ECT.)
Posture and fitness (overall impression)
Presentation of smile and poise (thru entire contest)
Presentation of excellence (hair, use of makeup)
Clothing style and fashion (long sleeved western dress, western skirt or long sleeve western blouse and western jeans will be allowed)
Cowboy hat, western boots, belt and belt buckle are required
 IMPROMPTU: 1-25 points
Composure, confidence and reaction
Answer applicability to topic (knowledge humor, and compassion)
Grammar
Ability to handle one's self in a professional manner
Presentation (development and closure)
Contestants will be isolated during the impromptu. ALL CONTESTANTS WILL BE ASKED THE SAME QUESTION. Contestants will not be allowed to leave the isolated area until it is their turn to compete, and no one will be allowed to contact the isolated contestants.
 PERSONAL INTERVIEW: 1-50 points
Questions may not include topics of religion or sex
Impression of interviewer (self-projection, presentation)
Clarity and confidence
Knowledge of subjects. (Current events, animal husbandry, rodeo, etc.)
Personality (includes character, charm, sincerity; etc.)
Interviews will be conducted in a private area. Only the contestant and judges in attendance. Judges ask each contestant the same questions.
Interview should be between 5-10 min. Each contestant is allowed the same amount of time.
 HORSEMANSHIP: 1-50 points
Horsemanship patterns should not be altered in any way.
Things to look for:
Hands, feet and seat
Riders balance and bounce
Hands in correct position.
Elbows should not bounce
Hand should be above and in front of horn
Straight line from her shoulder, to hip, to her toe.
Heels down, not flat or up.
Over-all look and confidence.
Horse's appearance-cleanliness, grooming. etc.
Contestant cleanliness
Hat and Boot cleanliness.
TEST:1-20 POINTS
Study points:  Test will cover what you know about the Duchesne County Rodeo and Fair. This is what you are running to represent. Know what your job will be.
HORSEMANSHIP PATTERNS
Queens: Horsemanship pattern #6 (go to patterns)
Princess pattern #2 (4H junior)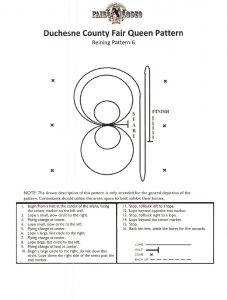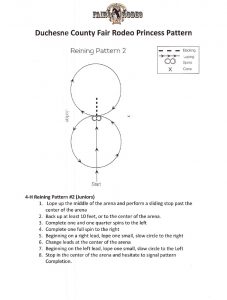 Working cow pattern:  Queen contestants will be asked to work a cow with a minimum of 2 direction changes. (Opposite direction the cow was moving) contestant will then move steer to bottom of arena to pen.
Princess contestants will be required to take the cow to the pen up area. No direction change required.
Working cow pattern will start when contestant has finished her Reining pattern and has acknowledged to the judges that her pattern is completed.  A cow will then be turned into the arena.
JUDGING CRITERIA OF WORKING COW:
Rider's control of steer at all times
Horse is under control, no balking.
No spurring or hitting in front of cinch at any time or excessively whipping or spurring the horse.
Horse may not bite steer, kicking, bucking, rearing, striking, or obviously insubordinate.
No excessive hollering
Rider showing confidence with moving the cow in different directions and ability to remove steer from arena. (this is your JOB at the rodeo)
Eye appeal of the rider with her horse.
Time worked (time limited 1 min)Contestant Contract Miss Duchesne County Rodeo Queen and Princess symbolizes the youth of our county. She promotes the sport of rodeo and our western heritage by traveling throughout the County during her reign representing Duchesne County and the sport of Rodeo.

Contestants must have a Duchesne County Address or enrolled in a Duchesne County School.
Royalty will attend all Duchesne County Fair & Rodeo performances. FULL western attire during the performances is required (including banner, belt buckle and crown). No exceptions!!!

Be available for other promotions, and charity events, throughout the year. (list of events required will be posted ASAP)

Crowned title holders, attendants, and parents will be required to sign the Royalty Code of Conduct agreement. This agreement outlines the expectations of the Duchesne County fair board and Royalty Committee while representing our Fair and Rodeo. Items on the contract will include completion of reign, attire during reign, conduct, morals, ethical standards, grounds for dismissal, and required attendance to all Duchesne County fair and Rodeo sanctioned events. Everyone will be expected to abide by the Code of Conduct agreement including parents, family members. If for any reason, a royalty member should be asked to resign, she will be required to forfeit and return all prizes and awards to the committee.

Royalty is always in the public eye. Therefore, it is very important to look your best at all times. Royalty must be in full and appropriate western attire when appearing on behalf of the Duchesne County Fair& Rodeo. This will include at all times the Duchesne County Rodeo crown, banner and the Duchesne County Rodeo buckle.

According to what is appropriate for the designated function, royalty may wear skirts (not mini, 2in above knee) dresses, pants, vest, or jacket. A long-sleeved shirt or blouse, along with Western jeans will be required when riding in the arena. Ripped or faded jeans are not allowed. Proper western boots and felt hats must accompany these outfits. While representing the Duchesne County Rodeo and Fair, royalty will not be seen in short sleeved, keyhole, tank top or crop top style shirts, shorts, cut off or cut out pants. Revealing or transparent blouses are not allowed. (If you have a question about your outfit, ask the Royalty chairman, or don't wear it.) These requirements follow the Miss Rodeo Utah guidelines.

The Royalty Chairman and Duchesne County Rodeo Fair Board will have final decision in all areas of behavior and appearance. If for some reason the reigning title holder is unable to fulfill her duties, the Duchesne County Fair & Royalty committee will appoint 1st Runner up for the remainder of her term.

Contestants are at liberty to invite guests to the Pageant, excluding the Personal Interview. Guests should respect all the contestants, judges, and committee members. All guests should conduct themselves in a courteous manner. The guest policy is subject to change in accordance with local, state, or federal recommendations regarding gathering sizes.

The Duchesne County Fair and Royalty Committee would like to thank all of the applicants for their interest and dedication to the sport of rodeo. We are looking forward to meeting you and your family members and wish you well in all of your endeavors for a successful 2021 rodeo season!

FULL DOWNLOAD WITH ALL PAPERWORK AND RULES UNDER REGISTER TAB
2021-2022 Royalty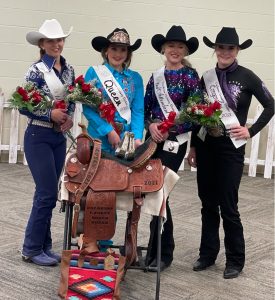 Queen • Kaylee Bristol
1st Attendant • Nika Monson
2nd Attendant • Adrianna Carlson
Miss Congeniality • Jemey Summarell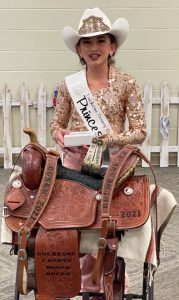 Princess • Harlee Roll
1st Attendant • Kaitlin Carlson
2nd Attendant • Caydence Carter
Miss Congeniality • Joy Gines