Rodeo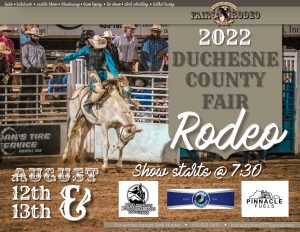 Tickets Booth Open at 5:00 pm.  Gates Open at 6:00 pm
Join us for two exciting nights of Rodeo action!
Friday Night-Patriotic/Red, White and Blue Night
Saturday Night – Cancer Awareness Night
Welcome rodeo fans to the 2022 Duchesne County Fair and Rodeo!!  This multiple time Rodeo of the Year award winning event will take place August 12th – 13th at 7:30 pm sharp.

Once again, the stock will be provided by Contractor of The Year, Broken Heart Rodeo Company.  Featured as our clown is Bert Davis, "The Coppertown Clown" and his "Mutley Crew" act will be sure to keep you laughing!   Our local event this year will be Bumper Bull, a race between teams in human hamster balls all taking place with a BULL in the arena!!!

You'll want to make plans to see all the action of this professional, fast-paced rodeo featuring some of the best cowboys and cowgirls in the Rocky Mountain circuit.

Plan now to attend this action-packed event!!  Fireworks will follow Saturday night's performance.

August 12th & 13th

7:30 pm

Outdoor Arena

Details
Tickets
Register
Waiver
Jerry Lisonbee  435-822-7111
Josh Hunter 435-823-0615
$1,000.00 added per event and awards to the winners.
Entries open – Info to come
Entries are cash only.
For more information contact Josh Hunter 435-823-0615
Register Now
Click the button below to download waiver:
Get Waiver
Duchesne County Fair Rodeo