Duchesne County Legendary Cowboy 2019
When you think of cowboys the names Billy the Kid and John Wayne may come to mind, but the legendary cowboy in our life is Dewey Mac Jessen.
Dewey Mac Jessen was born in 1948 in Roosevelt, Utah, to William Dewey and Norma Deane Jessen. They owned and operated a dairy farm and Mac quickly became his dad's sidekick. He grew up on the family farm milking cows and baling hay. He loved to break colts in the winter. When he was a young boy he would ride 10 miles up to the grazing each day to break these colts. He also loved hunting and fishing in his youth. He remembers a time when he was nine years old and he and his good friends Bike Shiner, Ray Fisher and Kay Iorg all rode their horses from Altonah to King's Peak to go fishing. Not a trek for the faint of heart.
Mac married Cynthia Hartman in 1966. They helped run the dairy farm before they ventured out on their own. Mac's true love was beef cattle and he invested in Leachman Red Angus. He got his start with just a little luck because Leachman missed adding 10 red heifers to their catalogue one year. That is when Mac and
Cynthia made their purchase, sight unseen. The heifers were delivered from Montana to their new home in Altonah. The life of a cowboy is not easy. It means work from sun up to sun down. Cash comes and goes depending on the rain, snow and wind. But what the life of a cowboy teaches is irreplaceable—true grit, control and discipline. These traits are passed on to many generations. That is what Mac loves most. Working side by side with his family and seeing each generation of kids learn to work hard with a smile on their face –and maybe just a little complaining.
Over the years Mac has been humbled to be awarded several outstanding achievements. He was Duchesne Cattleman of the Year in 1996, was awarded National Day of the American Cowboy in 2008 in Ogden, Utah, and has been President of the Heber Cattle Company for many years. In association with the Heber Cattle Company, he has owned a cattle permit on Strawberry Valley for 37 years. One of his true loves is to spend the Summer and Fall in the mountains of  Strawberry.
Mac has been an avid horseman all his life, calf roping, team roping and all around cowboying. He was a pro-rodeo cowboy for many years traveling on the circuit across Wyoming, Montana, Utah and Colorado. With the modern world happening so fast around us, the generation of the cowboy may seem long gone. We are proud to call our dad a cowboy. In fact, one day, not that long ago, Mac was picking up his 91-year old mother from an appointment and he was wearing his cowboy hat. That is what a cowboy does when he goes to town. They were walking out of the building and a stranger walked up to him and said, "Are you a real cowboy?" That is exactly what he is. He still rides his horse every day and loves it. He is a true cowboy and cattleman. We love him and are honored he can
Tommy and Jean Thacker – Grand Marshals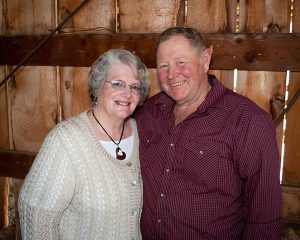 Tommy C Thacker was born on December 14, 1947 in the Roosevelt Hospital to Elvin G and Berneice Thacker. Most of his growing up years were in Upalco, Utah.  He attended Altamont High School where he graduated in 1966.  Before graduating he signed up for the National Guard.  In January 1967 he headed for Boot Camp in California, then off to Aberdeen Maryland.  After returning home in August he entered Utah State University to study Farm Mechanics.
On June 20, 1968 he married Jean Burton in the Manti Temple.  They had been High School sweethearts.  Jean was born in the Roosevelt Hospital to Ellis M and Loretta Burton.  She grew up in Talmage and went to school in Altamont High School.  She graduated in 1967 and went to Brigham Young University for a year before she married Tommy.
When Tommy graduated from USU they moved to Upalco and that has been their home since.  They are the parents of 5 boys, Tyler, Fred, Mark, Eric, and Tony.  They are all married and have brought wonderful girls to our family.  They are grandparents to 26 grandchildren, and the great grandparents to 5 ½ children. There greatest joy comes from family.
He worked several places on farm equipment, construction equipment, and on cars.  Finally on December 21, 1979 we started our own business.  It grew from 2 bays to 5 bays, with parts storage and office and waiting room.  From only him to 5-6 employees.
Tommy has served on the Moon Lake Board for 12 years.  He served on the UB Tech Board for Automotive for 5 years.   He has served as a Bishop, a Councilor in two Stake Presidencies and as a Stake President for 10 ½ years. He is now working as a Sealer in the Vernal Temple, and as a Stake Patriarch.
Tommy and Jean have been married for 51 years.
Kent & Susan Peatross – Grand Marshals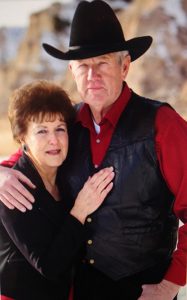 Kent and Susan where both born and raised in Duchesne County. They attended High School together where they started dating. After a year at Snow College Kent came home and married his sweetheart Susan. They started their life together living at the Ranch on the Strawberry River and have never left, except for 2 years of military service.  After only 7 months of marriage Kent was drafted and Susan was able to go with him to 2 of his duty stations Ft. Ord California and Ft. Benning Georgia. Then in 1970 Kent was sent to Vietnam for a year where he served as a Squad Leader in a infantry unit.
After being discharged from the Army they set up permanent house keeping on the Ranch. In the first few years of marriage Kent would often work construction and Susan would help his dad "Bill" with all the care and feeding of the cattle. Because of the busy life on a Ranch most of the treasured family memories  took place with all 4 kids and parents saddled up and moving the cattle to or from the range.
Community and Church service have always been a big part of their lives. They have each served in numerous church callings including for Susan , Young Women, Primarily, and Relief Society Presidencies, for Kent Young Men, High Council, and Bishop. Susan was one of the committee members for the Veterans Memorial in Duchesne City. Kent has served on numerous boards and committees including Central Utah Water Conservancy District, Strata Networks, Uintah Basin Medical Center, and his favorite 12 years as a Duchesne County Commissioner. While serving as a county commissioner he was involved in many national, state, and county committees.  The job he loved most was working on the County Fair Grounds. He did everything from running a front end loader to acquiring the funding for, and over seeing the construction of the Centennial Event Center. They had the honor of serving together as Co~Chairman's for the Duchesne County Centennial year celebrations, a job they really enjoyed.
Kent and Susan still live on the Strawberry River, They have 4 children, 21 grand children and 2 1/2 great grandchildren. Their life has always been centered around family, and after passing 50 years of marriage last November their priorities haven't changed.