Lee Mecham
Neola, Utah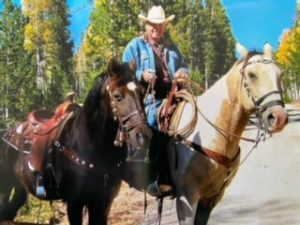 Legendary Cowboy 2023
Lee Mecham was eight years old when Darrell Lambert hired him to herd cows from sun-up to sunset on his 1600 acres in Hancock Cove every spring and again in the fall.  Lee road his little bay horse on Dry Gulch herding cows during the summer and grew up wanting ". . . to sleep out and eat just like a real cowboy"
Some of the best of cowboy stories have been told at the campfire, or in Lee's saddle makin shop.  He has been a cowboy nearly all of his 85 years.
While yet a teen, he earned spending money breaking horses of others while herding cows.   Then Lee took a job sorting and penning livestock at the Uinta Sales Barn on Saturdays when he was about 15.  He has gained a reputation for owning and riding good horses.
In spite of complications from at least 22 surgeries, many of them major, and some horse accidents, in the 70's Lee developed skill in leather work and saddle making.  He became an instructor in leather working at the UBAVC.  Because of his successful work with students there, he earned the Governors Craftsman Award and first place in the Utah State Fair for three consecutive years.
Lee continued to ride and endure weather extremes when he bough High Country Adventure, and later became a partner in the U-Bar Ranch in Uintah Canyon.  Lee has a deep respect for nature, and sees his surroundings through the eyes of an artist.  He shared his legendary attitude and love for the outdoors with many as he guided pack and fishing trips into the high Uintas during the summer months while he was teaching at the Vocational Center during the school year.
Lee took a summer Range Rider job with the Taylor Mountain Grazing Association in 1990, and continued to build saddles during the winter months.  Lee's expertise with cattle and horses has grown from riding jobs on Dry Gulch and Taylor Mountain as well as in the Big Hole of Montana and Peance Creek of Colorado.  He has touched many, many lives through his lifetime adventures, and has gained countless special friends.
Lee and his wife Norma have raised a daughter, Laura White, and three sons: Jody, Brad and Shane, whom they have involved in their chosen way of life.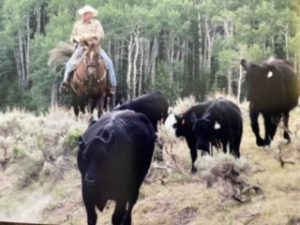 ---
Brad & Cindy Jensen
Altonah, Utah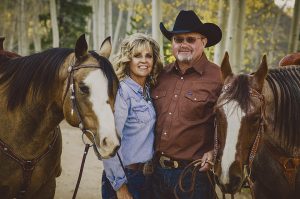 2023 Grand Marshal
Brad and Cindy Jensen are honored to be a part of the 2023 Duchesne County Fair as Grand Marshals.
Brad was born in Roosevelt and raised in Neola, Utah. He spent most of his adolescent years on horseback and had a passion from a very young age for all animals. Brad was introduced to Cindy on a blind date and that's where their story began. Brad graduated from Union High school in 1972 and started his career in the oil industry at T&D Oilfield. In 1974 he was hired at Shell Oil as a pumper. In May 1974 Brad and Cindy were married and started their family. Brad continued with Shell Oil, and stayed with each company buy-out throughout the next 37 years. He dedicated his knowledge and skill of the industry as a production foreman and retired with El Paso Oil in 2011. Brad loved his job and the people he worked with. Some of his coworkers were able to enjoy his sense of humor (and some didn't) when they found snakes he planted in their tool boxes. He has always loved making people laugh and making new friends wherever he goes. Most of his time outside of work was spent at the race track. He trained race horses, but his true joy was in breaking and racing the chariot colts. He was the Roping Club President for several years and he and Cindy have been over the Horse Pulls at the Duchesne County Fair for the last 6 years. They are both avid Altamont High School wrestling fans and love supporting the Longhorns.
Cindy was born in Duchesne, UT and raised in Altonah. She grew up surrounded by a huge extended family, and riding horses was a big part of her childhood. Cindy graduated from Altamont High School in May, 1974 and married Brad that same month. Together they settled into their first home in Altonah, and raised 4 children (Sicily, Katie, Jordan and Chelsy). They are now grandparents to 11 grandchildren. Cindy served in the Boy Scouts, and was Young Women's President, as well as other church positions. She was Barrel Racing President and a Horse 4-H leader. Her time outside of raising her family she spent working with ex-race horses and training them to run barrels where she participated in local clubs and  jackpots. Brad & Cindy's love for horses was very apparent when they were approached by a gentleman to trade some mountain land for 84 head of horses, and they jumped at the chance.  They kept some horses, and managed to find homes for others. From this trade, they kept a stallion, and a few mares which enabled them to start a horse breeding program.  Cindy has always found a way to beautify everything around her. They built their dream home and yard 9 years ago, and it has been a labor of love and an oasis where they love welcoming family and friends. Brad and Cindy have celebrated 49 years of marriage and no doubt their biggest accomplishment is their love for one another. Seldom do you see one without the other.
While they were both insistent that they weren't accomplished enough for this title of Grand Marshal, their community has viewed their acts of service as the foundation that small town pride is built upon. They have so much love and respect for their community,  and the people they are surrounded by. They feel so fortunate to be able to contribute to such an extraordinary community.
---
Clinton & Donnette Moon
Duchesne, Utah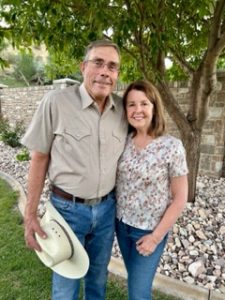 2023 Grand Marshals
While in their youth, Clinton and Donnette both enjoyed participating in 4-H.  Clinton liked working with his 4-H lambs, and Donnette took 4-H sewing classes for eight years.  They both enjoyed competing in County and State 4-H contests.  Later they were privileged to teach 4-H to the youth in Duchesne County.
    Clinton and Donnette were blessed with four children and their spouses:  Conley (Elaine Jones), Marilee (James Evans), Melody (Brett Talbot), and Courtney (Jesse Light).  They have fifteen grandchildren and two great-grandchildren.
     Donnette received her Bachelor of Science degree from Brigham Young University.  She graduated Cum Laude with degrees in Elementary Education and Special Education.  She received her Master of Science degree in Elementary Education from Utah State University where she was a member of Phi Kappa Phi.  She also earned endorsements in Early Childhood Education, Gifted and Talented Education, English as a Second Language, and Reading.  She taught Special Education and was assigned to help start the first Resource Program at Duchesne Elementary.  She also enjoyed teaching kindergarten.  Donnette taught school for thirty-four years!  She loved ALL of her students, her six principals, and the entire DES staff.  
     Clinton served in the National Guard for six years.  His basic training was in Fort Ord, California.  He belonged to the 1457 Engineering Battalion, Vernal Unit.  One summer he went to Fort Lewis, Washington for two weeks to train for chemical warfare.  He loves our country!
     Clinton raised sheep and farmed with his dad until July of 1980 when he decided to go into the dairy business.  He ran his dairy for twenty-five years.  He and his son, Conley, then decided to start a Black Angus cow/calf operation.  They also enjoy farming in the Basin. 
     Clinton has served on Duchesne County Farm Bureau committees.  He has also served on various Water Boards.
     Clinton has always appreciated living in Duchesne County; however, when he and Donnette first moved to Duchesne, he promised they could move away after one year if she didn't like living in this part of the state.  It actually took a couple of years before Donnette grew to love Duchesne and call it her home.  Donnette and Clinton have been happily married for fifty-three years; and their anniversary has often been spent at the Duchesne County Fair.  Life in Duchesne County has been a joyous journey!
---
Rod Harrison
Duchesne, Utah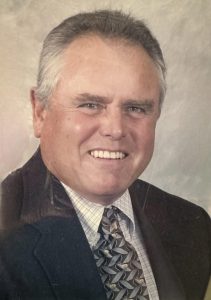 2023 Legendary Veteran
Rod Harrison was born Dec. 2nd, 1947 in Roosevelt, Utah to Bill and Connie Harrison.
He is a fifth generation lifetime resident of Duchesne. He graduated Duchesne High as class president in 1966. He attended BYU, USU, and UBATC.
He married the love of his life on April 5, 1968. He was drafted June 28, 1968 and went to Fort Buss, Texas for basic training, and Fort Ord, California for AIT. He was ordered to Vietnam in November 1968 to the 9th Infantry Division.  He received 14 Personal Citations and 2 Presidential Unit Citation's after Vietnam. He was stationed in Hawaii for the rest of his tour.
Rod served on the Duchesne city council in the late 70s. He ran for Duchesne County commissioner in 2004 and served for four years. Most of those years he was active in the American Legion and has been commander for 15 years.
Rod has a loving wife, two great children, six grandchildren and seven great grandchildren.