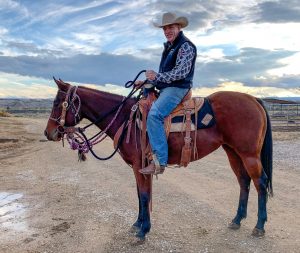 Clel Robinson
Legendary Cowboy 2022
Clel Robinson was raised in Erda, Utah, the 4th son of Bonny and Ron Robinson. He farmed and began working on the 7C ranch at the age of 12. During that time he learned to be a cowboy. Clel attended the National High School Rodeo Finals all four years of high school, where he won several awards. 
He served an LDS mission to Ohio and resumed his rodeo career and college education when he returned to Utah. Clel attended the NIRA finals placing 4th in the saddle bronc average and as a team were the reserve champion men's team in 1991. He was a multiple time Wilderness Circuit qualifier and has been involved in producing, promoting, and furthering the western lifestyle.
Graduating from USU with a degree in English. Clel enjoys teaching and coaching. His motto, "If you ain't having fun, you're doing it wrong."
He met his future wife Amy when he roped her while promoting the USU rodeo. Together they raised three children Hannah, Melissa, and Trey and enjoy helping them chase their dreams.
Clel and Amy have spent the last 28 years as residents of Duchesne County. During that time Clel has been involved in local rodeos and coaching and mentoring young cowboys and cowgirls, usually becoming their biggest cheerleader. Clel says, "I love to watch the process of people chasing goals, the growth in individuals as they strive to realize their potential." 
He served as Duchesne County Fair and Rodeo chairman for the last 20 years, earning "Rodeo of the Year" honors six times.. 
Besides his family, he loves raising and training horses. He has bred many outstanding horses including the 2015 PRCA Wilderness Circuit Steer Wrestling horse of the year SS Sherman and stand-out barrel stallion John Fame.
Clel loves rodeo and believes it instills the principles of success, as well as the values of God, family, and country in those who are involved in the industry. He is humbled and grateful to be considered for this award.
---
Troy Dick Cooper
2022 Grand Marshal
He was born in Rexburg, Idaho May 2, 1955 to Clinton Dick and Carma Cooper. He had and older brother (Dana) and older sister (Jackilyn) and was raised on a small farm.  They grew wheat, barley, alfalfa, and raised sheep. While a youth he was involved in the 4-H program where he showed breeding sheep at the county fair. Troy attended school in Rexburg where in 1973 graduated from Madison High School. He attended Ricks College for a year and then served a mission to the Chicago, Illinois Mission. In 1976 he returned from his mission and was home for a month when the Teton Dam broke and flooded the Upper Snake River Valley. He helped his family that summer to put things back together. In the fall he started school at Utah State University and graduated from there in 1979 with a BS in Agriculture Education. In 1977 Troy meet the love of his life the late Deon Marlor Cooper who passed away July 8, 2021. They were married December 16, 1977. After graduating from college Troy and Deon moved to Lyman, Wyoming where he taught Vocational Agriculture and was the FFA advisor and assistant High School Wrestling coach. While in Lyman, Ashley Dawn was born. They moved to Rigby, Idaho in 1982 and he taught Agriculture till 1984. While in Rigby in 1983, Troy Dillon was born. In 1984 they moved to Logan, Utah where Troy enrolled in Graduate School and obtained his Master Degree in Agriculture Education in 1986. After graduation Troy interviewed for the USU Extension Agent position in Duchesne County and started working in Duchesne County July 1, 1986. In 1987, Kyleigh Jo was born. They lived in Duchesne city for 5 years before moving to Roosevelt. Troy served as the USU Extension Agent for 35 years and retired in February 2022. He enjoyed working with the farmers and ranchers in the County. He worked with the producers on many phases of agriculture production. He also was involved in the 4-H programs throughout the county. Troy relished working with the youth helping them increase their knowledge of agriculture. He enjoyed watching the youth show their livestock at the county fair and working with the 4-H horse program. Some people knew Troy as the grasshopper guy or the poultry showmanship guy because of his involvement in helping the agriculture producers in grasshopper control programs and helping develop poultry showmanship contests in several Utah Counties. Deon and Troy were also involved in helping youth improve their tumbling and dancing skills by owning and running tumbling schools throughout their married life. When they moved to Roosevelt in 1991 in 1992 they started Roosevelt Academy of Arts, where they worked together teaching tumbling and Deon and many other teachers teaching dance. Troy enjoyed working with the people of Duchesne County and looks forward to his continued association with the people of the Uintah Basin.
---
Bob & Renee Park
2022 Grand Marshal's
Robert was born and raised in Salt Lake City, the oldest of 4 brothers. He grew up on a small farm in Murray, working with his grandfather and using horses to power their equipment. Bob started farming on his own when he was 16 and bought his first tractor.
He was active in 4H showing fat beef and breeding stock at the Salt Lake County eFair, the Utah State Fair, and the Golden Spike National Livestock Show in Ogden.
Bob graduated from Granger High School where he played football and attended the University of Utah for a year before serving a mission to Uruguay for the Church of Jesus Christ of Latter-Day Saints. After his mission he returned to the University of Utah graduating in 1968 with a teaching degree in Biological Science.
He was hired to teach at Tabiona High School and remained there for 47 years, 20 years as a teacher and 27 as principal. He was also a bus driver for 35 years. He has a Master's Degree in Science Education from Utah State University and a Master of Educational Leadership from Brigham Young University. Bob was also endorsed as a school counselor and an Ag Teacher starting the FFA program at Tabiona High School.
He served as President of the Duchesne Education Association and was President of the Utah Association of Secondary School Principals. He was a member of the State High School Activities Association Board of Directors and the Board of Trustees for 13 years and was inducted into the UHSAA Circle of Fame.
Bob married his sweetheart, Renee, at Christmas time in 1968. She left her studies at the University of Utah to marry and move to Tabiona. They have been married for 54 amazing years. They have 10 children, 40 grandchildren and 7 great grandchildren. Seven of the Park kids have made Duchesne County their home.
They have both been 4H leaders and involved at the county fair. Bob served as livestock committee chairman and Renee has been on the fair board over Home Arts as well as a State Fair judge. Renee was also the Utah State 4H Ambassador Advisor for 15 years and served as President of the Utah State 4-H Volunteers Association after several years on the Council
They were the first EMT's in Tabiona, long before there was an ambulance. They enjoyed their involvement in Boy Scouts of America for many years receiving numerous awards and recognition for their service. Bob was honored to receive his Silver Beaver. They have been volunteers in the community, schools and Church, being honored as Duchesne County Public Servants of the Year.
After retiring in 2015 they served a mission to Alberta Canada. Bob was called to be the branch president in Slave Lake where they served for 2 years. Bob and Renee live on their Ranch in Hanna. They serve in the Vernal Temple and Bob is the Duchesne Stake Patriarch and Renee is his scribe.