Magic Show – Paul Brewer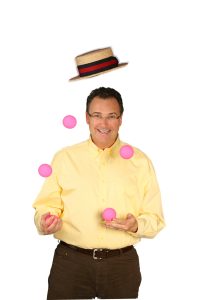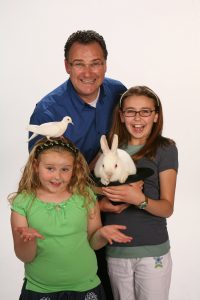 Paul Brewer Magic Show
magic is already in the air. A show from Paul Brewer just helps capture it.
Presenting the one, the only Paul Brewer who can mesmerize two dozen kids, a roomful of adults, and amazingly, even a cynical teen all at once.
It's no hoax. Paul Brewer is recognized (and asked to reappear again and again) thanks to his uncanny ability to transform a show around the needs and moods of the moment.
Paul and his lovely assistant (and wife) Jodi starred in 1,600 sold-out shows at the Lotte World Adventure theme park in Korea. Together, they entertained thousands on a daily basis without being fluent in Korean (now that's a trick). Paul also created the magical atmosphere surrounding Salt Lake City's 49th Street Galleria amusement center. With 30 years experience, he continually entertains for schools, church functions, special needs groups and more.
With dazzling magic, family-friendly comedy, and safe audience participation, it's the perfect show for the Duchesne County Fair!

August 9, 2022

4:30, 6:00, 7:00

Roy Park with Family Fun Night

FREE