Senior Citizens Dinner "Drive through only"
This will be Drive Thru Only.   Please remain in your car and the meal will be handed to you.
All Duchesne County Senior Citizens are invited to attend this drive through event.  There will be good food and a drawing for prizes.   Sponsored by the fair board and the county commissioners.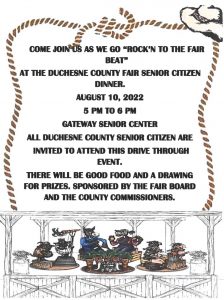 August 10th

Drive thru will begin at 5:00 until 6:00 pm

Duchesne Gateway Senior Center

FREE
Duchesne County Senior Citizens.  Come to the annual Senior Citizens Fair Dinner.  Great food, Great Company and a darn good time.    It will be at the Gateway Senior Center.  There will be a auction and raffle for some darn good prizes.  All proceeds will go back into the senior centers for activities.
Sponsored by the Duchesne County Fair Board and our County Commissioners.